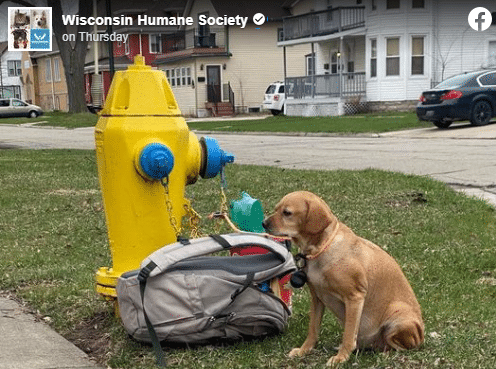 Wisconsin dog who went viral after being left tied to fire hydrant gets new home – Fox News
A dog named Baby Girl was found tied to a fire hydrant in a Green Bay neighborhood with a backpack full of dog supplies. Her previous owner left a note asking for help but essentially dumped the problem on society and hoped for the best, fortunately, society answered.
A woman passing by spotted Baby Girl and brought her to the WHS' Green Bay shelter.
Baby Girl's story has gone viral, and the animal rescue organization has posted a moving Facebook post about how sorry they are that her owner had to part with her.
The shelter listed several reasons why it seems clear that Baby Girl's former owner was trying to do what they felt was best for their beloved dog. It also urged people to bring their pets to a shelter rather than leaving them outside.
Engelhart has no ill will toward Baby Girl's former owner. She just wants everyone to focus on finding her a new home.  After several days of attacks, the community has now seen the humanity in the situation and is now seeing the dog's supplies and toys.
Baby Girl will likely be up for adoption in the coming days. In the meantime, the shelter hopes her former owner sees the Facebook post.
Read more on the dog story at the following additional news sources: